Meet LEAP's 2017 Honoree Kenneth Kasamatsu
Get to know our honorees before the LEAP "DREAM BIG" 35th Anniversary Celebration on Thursday, July 20, 2017! Presenting one of our Individual Leadership Award recipients, Kenneth Kasamatsu!
Individual Leadership Award Recipient
Kenneth Kasamatsu
Advisor to the CEO, E-Central Credit Union
The Pacific Bridge Companies
Founder, Pacific Commerce Bank
Kenneth Kasamatsu has been a force for change in Little Tokyo and the Asian and Pacific Islander (API) community for over 50 years. In 2002, Mr. Kasamatsu started Pacific Commerce Bank, a business bank dedicated to serving the specific needs of the Japanese American (JA) community. He served as its Founder, President and CEO until retiring from the banking industry in 2014. He was previously Senior Vice President and Regional Manager at California Bank and Trust (formerly Sumitomo Bank), where he worked 32 years. He is currently Advisor to the CEO of E-Central Credit Union, with a specific emphasis on nonprofits. Mr. Kasamatsu continues to volunteer his time, energy, leadership and expertise for a multitude of community organizations in Southern California, emphasizing the need for youth and professionals to give back to their communities. He has worked on numerous issues affecting the API community, including: unemployment, addiction, leadership training, mentorship, complacency and cultural and community development. Mr. Kasamatsu was an active board member of the Asian American Drug Abuse Program for over a decade, serving six years as Board Chair. He also served 12 years on the LEAP Board of Directors as a member and Treasurer, and contributed immensely to the organizational growth and value-driven focus of LEAP. Mr. Kasamatsu embodies the risk-taking spirit of LEAP and has served the community through unselfish conviction and hard work. Listen to his experiences and perspectives on risk-taking below.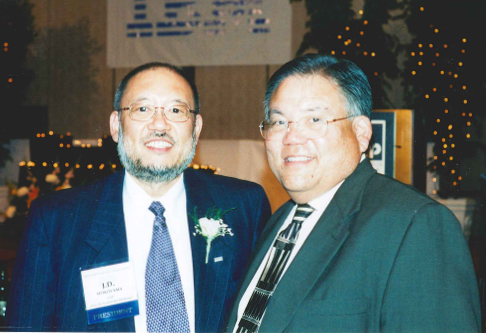 Ken (right) at the 18th Leadership Awards Gala in July of 2000 with former LEAP President and CEO, JD Hokoyama.