Congratulations to the Leadership In Action 2018 Interns!
The 2018 Leadership In Action (LIA) is an eight-week paid summer internship program designed to develop emerging young leaders by providing college students with practical leadership skills and the opportunity to work hands-on in the Asian and Pacific Islander (API) community in Southern California. Throughout the summer, selected students intern four days a week from Monday to Thursday at a Southern California nonprofit organization that serves the API community. On Friday, interns return to LEAP to receive further leadership development. Additionally, the first week of LIA begins with a five days of foundational leadership training and team building activities. The 2018 LIA program kicked off on June 18, 2018 in Los Angeles, CA and ended on August 10, 2018 with a graduation ceremony.
Seven LIA interns were selected for the class of 2018.


Left to Right: Joon Sung Choe, Grace Lee, Alyssa Gonzaga, Samantha Kim, Theresa Tran, Chee Cia Her, Brian Kohaya
The program, now in its 21st year, kicked off with a five-day overnight Leadership Retreat Week filled with foundational leadership training and team building activities. A total of 13 students comprised of both the LIA cohort and six additional students from other API community or student-based organizations participated in the retreat. The six additional students were from the following organizations:
Leadership Retreat Week included a series of workshops on leadership, values, team building exercises, fundraising, communication skills, and action planning. In addition, participants had an opportunity to build strong connections with peers nationwide who were dedicated to the API community. They also had the opportunity to engage with different leaders and events in the larger Los Angeles API community. For example, on Tuesday, June 19, participants attended Tuesday Night Cafe, the longest running Asian American open mic space in the nation, in Little Tokyo, Los Angeles, CA. The week ended with an intimate completion ceremony where participants met LIA alumni from past years and received a certificate from LEAP.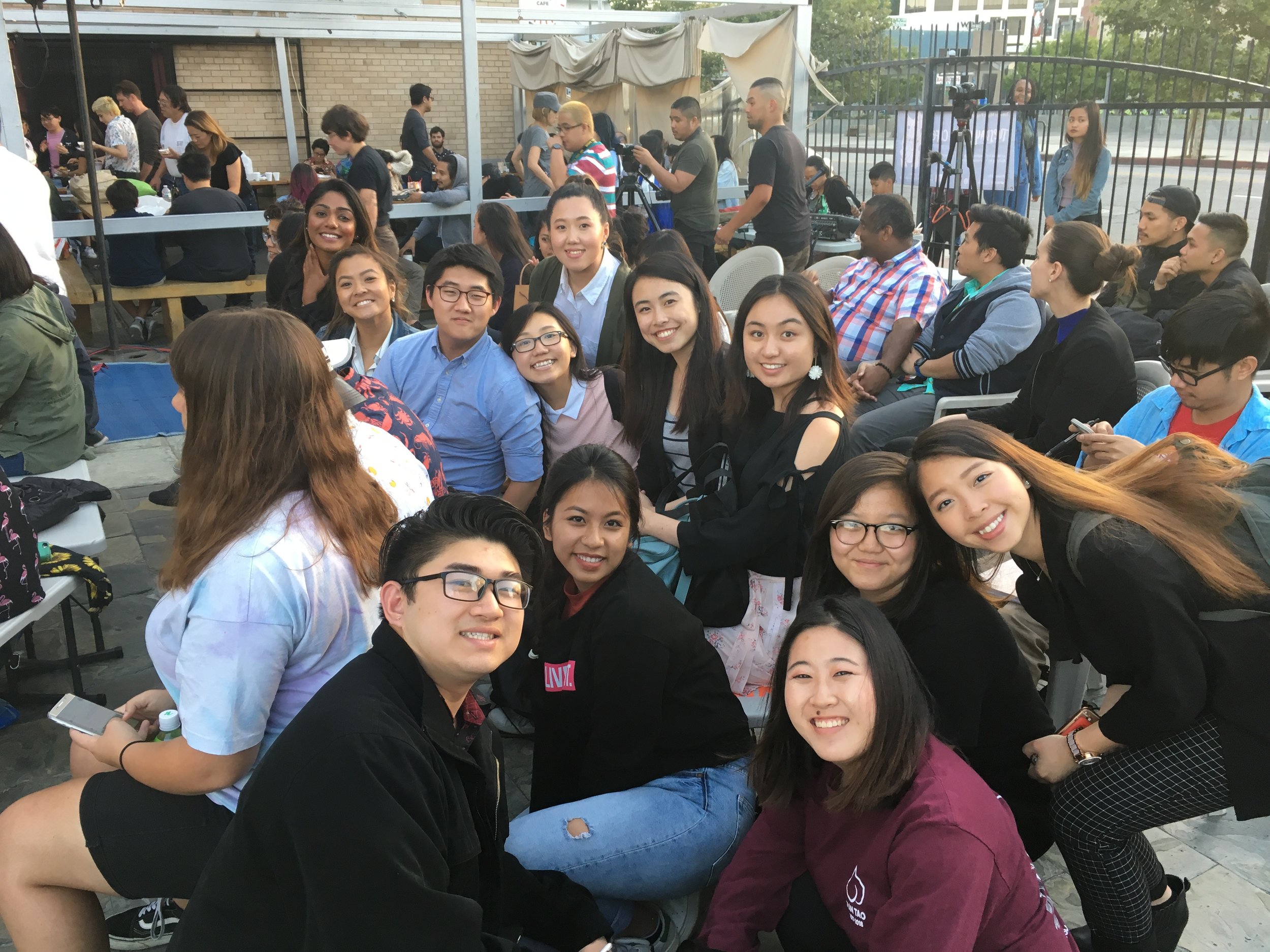 2018 Leadership Retreat Week participants attending Tuesday Night Cafe on Tuesday, June 19, 2018.
For the seven LIA interns, the following seven weeks included work at their assigned community-based organizations and continued leadership development. Topics included: resume writing, interviewing, public speaking, and navigating multigenerational spaces. Interns also had an opportunity to attend LEAP's 36th Annual Leadership Celebration, where they met LEAP's board members, sponsors, alumni, and friends.
The LIA program concluded on August 10, 2018 with a graduation dinner. Over 60 community-based organization staff, friends, and family attended the graduation at Special Service for Groups in Los Angeles, CA. Each intern had an opportunity to share their summer internship experience with graduation guests and present their team community impact project. This year's cohort created a photo gallery event titled "Home: Home and Homelessness in Los Angeles" to highlight the themes of identity and belonging in the API community. They also researched data on the housing crisis and homelessness in Los Angeles to connect the photo gallery to larger current issues in the city. The interns received over 29 photo submissions from across the country. At a photo gallery hosted at Asian Americans Advancing Justice - LA, interns showcased the photo submissions and presented their data on the housing crisis in Los Angeles.
Congratulations to the 2018 Leadership in Action Interns!
THANK YOU TO OUR SPONSORS WHO HELPED MADE LIA 2018 POSSIBLE
Southwest Airlines is
The Official Airlines of Leadership In Action